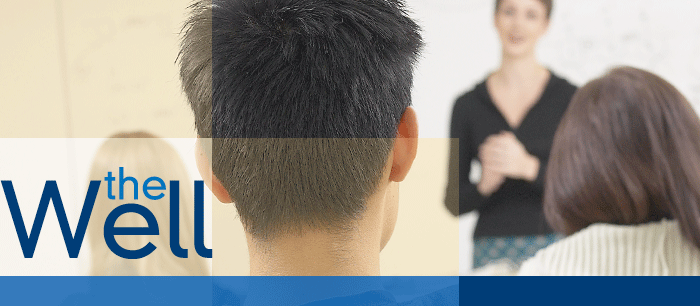 Request a Program
Invite us to give a workshop or presentation to your group. Choose from the programs below. You can also request a specific program or suggest a topic or idea of your own. Please give us at least two weeks' notice to prepare. Once you have selected a program, you can submit your request at humberto.santiago@ucr.edu. Please include your proposed program date and time, location, expected number of participants, and which program you are requesting. Thank you!
For condom requests: If you would like to request condoms for a sexual health program , you will need to fill out this form.
Program Categories:
General Health & Wellness
 
Dimensions of Wellness
Students have a range roles and responsibilities that can both contribute to and detract from overall wellness. In this 60 minute program, explore wellness from a holistic perspective while learning how UCR's resources aim to integrate healthy practices into the student experience.
Time Management
Do you feel like there isn't enough time in the day/week/month to get things done? In this 60 minute program presented by The WELL and Active Minds, learn skills to prioritize your time and better organize your school, work and personal life to make them work for you.
Bystander Intervention Training
Many health and wellness and social justice problems involve bystanders: people who want to act and want to help but don't. This training provides a framework for explaining bystander behavior and teaches skills for intervening in problematic situations that may involve alcohol or other drugs, assault or violence, eating disorders, and more.  You can ALL make a difference. Everyone can step up and intervene, from freshmen to seniors, student leaders, peers, and members of our community. You are the catalysts for change and you can set the example, for helping behaviors and intervention. (90 minutes)
Food Insecurity Intro
This workshop introduces folks to the food system which is made up of all aspects of food from production to consumption. It also explains how food insecurity plays into the larger system, and outlines resources on campus to assist with food insecurity, as well as ways to get involved.
Sound Asleep
In this 60 minute Active Minds program learn how the sleep we get affects all aspects of living—attention span, mental health, memory and physical health. Gain skills to build a healthy relationship with sleep so that your body and mind get all the rest and integration they need to serve you every day.
Financial Wellness
Coming soon!
Mental Health
 
Mental Health Awareness
What is mental health? What is mental illness?  In this interactive one hour program presented by The WELL and Active Minds, learn about mental wellness from a holistic perspective, the factors that affect our mental health, and coping skills to maintain and improve it.
Understanding Mental Health and Mental Illness
In this 90 minute interactive and experiential training from The WELL, participants will learn about mental health and mental illness from a holistic lens, and gain a strong understanding of the top mental health challenges for college students. All participants will leave with coping skills to maintain and improve mental well-being and learn about mental health resources on and off campus.
Treat Yo Self
In this 60 minute interactive program led by Active Minds peers learn how to manage stress on a tight schedule with a tight budget.
Stress Management
In this 60 minute workshop led by The WELL, learn how to identify signs of stress in yourself and practice regular effective self-care strategies. Experiential exercises included!
Food and Mental Health
Learn how the food you put into your body affects you holistically in this 60 minute Active Minds program. 
Body Positivity
Everybody has a different body! Let's celebrate this together in this 60 minute Active Minds program on creating a positive body image for yourself and your peers.
Sexual Health 
 
Sex Pyramid Activity
The Sex Pyramid activity is an interactive activity that takes 20-40 minutes, and is best when used with a large group (50 or more). It uses a simulation of the spread of HIV to highlight high-risk disease-transmission behaviors, and to demonstrate the importance of safer sex behaviors. (30 minutes) 
Let's Talk About Sex
Although not everyone in college is having sex, it's good to be prepared with enough information to help make safer and sexier decisions should you choose to engage in sex or sexual activities. This is a fun, interactive workshop about sexual health, including info on communication, consent, STIs, contraceptives, and common myths.
Condom Bingo
Test your knowledge of anatomy, STIs, campus resources, and more, and win cool prizes!
Alcohol & Other Drugs
 
Highlanders Party Smart
Whether you choose to drink or not, alcohol may play a role in your college life. We provide some tips, tricks, and strategies for staying on the good side of alcohol if you choose to drink. Or maybe you don't drink...No problem!  We also provide the tools needed to educate your peers or to help out a friend who may have had too much to drink.
1