Request a Workshop or Presentation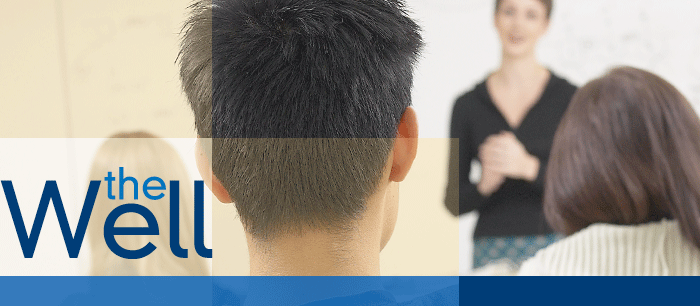 Request a Program
Invite us to give a workshop or presentation to your group. Choose from the programs below. You can also request a specific program or suggest a topic or idea of your own. Please give us at least two weeks' notice to prepare. Once you have selected a program, you can submit your request at humberto.santiago@ucr.edu. Please include your proposed program date and time, location, expected number of participants, and which program you are requesting. Thank you!
Program Categories:
General Health & Wellness
Dimensions of Wellness
Students have a range roles and responsibilities that can both contribute to and detract from overall wellness. In this 60 minute program, explore wellness from a holistic perspective while learning how UCR's resources aim to integrate healthy practices into the student experience.
Time Management
Do you feel like there isn't enough time in the day/week/month to get things done? In this 60 minute program presented by The WELL and Active Minds, learn skills to prioritize your time and better organize your school, work and personal life to make them work for you.
Food Insecurity Intro
This workshop introduces folks to the food system which is made up of all aspects of food from production to consumption. It also explains how food insecurity plays into the larger system, and outlines resources on campus to assist with food insecurity, as well as ways to get involved.
Sound Asleep
In this 60 minute Active Minds program learn how the sleep we get affects all aspects of living—attention span, mental health, memory and physical health. Gain skills to build a healthy relationship with sleep so that your body and mind get all the rest and integration they need to serve you every day.
Fitness and Nutrition
Coming soon!
Mental Health
Mental Health Awareness
What is mental health? What is mental illness?  In this interactive one hour program presented by The WELL and Active Minds, learn about mental wellness from a holistic perspective, the factors that affect our mental health, and coping skills to maintain and improve it.
Treat Yo Self
In this 60 minute interactive program led by Active Minds peers learn how to manage stress on a tight schedule with a tight budget.
Stress Management
In this 60 minute workshop led by The WELL, learn how to identify signs of stress in yourself and practice regular effective self-care strategies. Experiential exercises included!
Food and Mental Health
Learn how the food you put into your body affects you holistically in this 60 minute Active Minds program. 
Body Positivity
Everybody has a different body! Let's celebrate this together in this 60 minute Active Minds program on creating a positive body image for yourself and your peers.
Erasing the Stigma
The purpose of this presentation is to understand the discrimination faced by people with mental health issues/disorders and to inspire people to work together to break down the stigma that surrounds mental illness.
Sexual Health 
Sex on the Beach
Sex on the Beach is an interactive and fun activity using a beach ball to show the prevalence of Sexually Transmitted Infections (STIs). STI testing and prevention, stigma, sexual consent and substance use are discussed. The activity and discussion takes about 30 minutes and is best with a group of 15-40 people.
Let's Talk About Sex
Although not everyone in college is having sex, it's good to be prepared with enough information to help make safer and sexier decisions should you choose to engage in sex or sexual activities. This is a fun, interactive workshop about sexual health, including info on communication, consent, STIs, contraceptives, and common myths.
Condom Bingo
Test your knowledge of anatomy, STIs, campus resources, and more, and win cool prizes!
Alcohol & Other Drugs
BEARS: Building Education on Alcohol Recovery and Substances (formally Highlanders Party Smart)
Whether you choose to drink or not, alcohol may play a role in your college life. We provide some tips, tricks, and strategies for staying on the good side of alcohol if you choose to drink and we talk about the reality of alcohol use at UCR. Maybe you don't drink...No problem!  We also discuss reasons students choose not to drink, tools needed to educate your peers or to help out a friend who may have had too much to drink and ways to support someone who is sober or in recovery. 60 minutes.
Alcohol Bingo
Test your knowledge of alcohol in this interactive bingo game. Best with a group of 15 or less people.
Alcohol Jeopardy
The game were knowing the right answers to questions about makes you a winner! Answer questions on topics such as: effects of alcohol, BAC levels, the body and brain, impaired driving, the law, women and alcohol, alcoholism.
1