Golden Arches Peer Health Education Program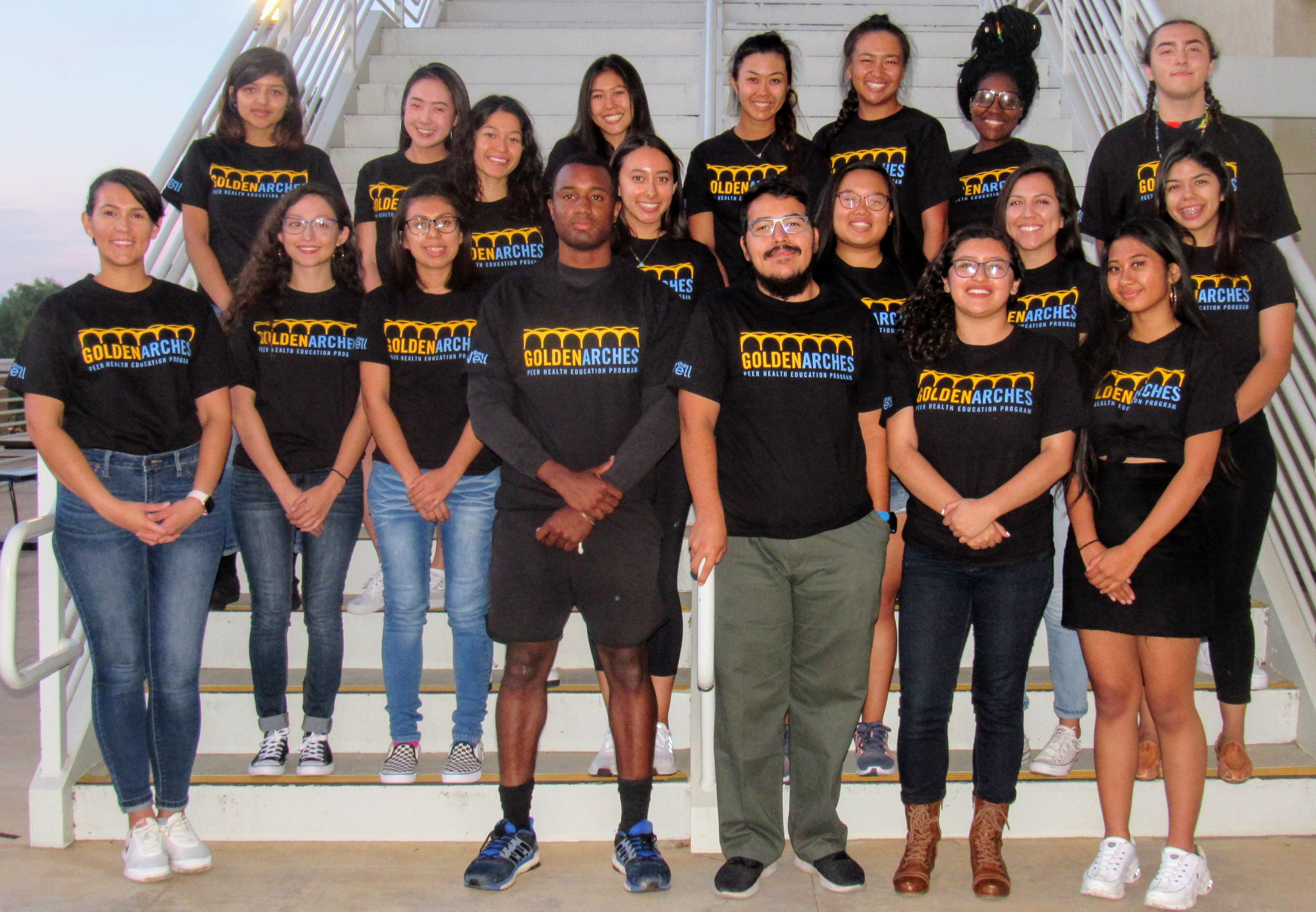 Advocating Responsible Choices through Health Education and Support
Golden ARCHES is a peer health education group at UC Riverside, focused on the topics of alcohol and other drugs, safe partying, sexual health, and nutrition & fitness.
Golden ARCHES believes in providing UC Riverside's students with accurate and honest health information, skills, and resources, so students can make informed decisions that enhance their personal health and well-being.
Golden ARCHES peers are advocates for responsible decision-making when it comes to individuals' health, and for creating a campus community that nurtures and supports these decisions.
Golden ARCHES peer educators gain valuable experience in health education programming, and serve as positive role models for their peers.
---
What we do
Golden ARCHES peer health educators are frequently asked to provide educational presentations for groups of students on campus or in housing. These include presentations and discussions about safe partying, and sexual health & responsibility.
Golden ARCHES peers regularly do outreach and tabling events, where we promote healthy behaviors and choices, as well as promoting the other services and programs put on by The Well.
We work collaboratively with other peer groups and departments to bring UCR students health-related campaigns, services, and events. Recent examples include planning the Sexual Health Fair, tabling at Stress Recess, creating campaigns to display around campus.
Golden ARCHES peers also bring expert speakers to campus, in our main topic areas.
How to get involved
Golden ARCHES peer health educators are recruited each spring for the following academic year. 
Interested students should submit an online application by May 5th, 2019 at 10 PM by logging in here 
You can also pick up a paper application at The Well HUB 248
If you are interested in learning more stop by at  The WELL (HUB 248) or email goldenarches@ucr.edu 
What to expect as a Golden ARCHES member
Golden ARCHES peers are trained in the topic areas of sexual health, safe partying, alcohol and other drugs, and fitness & nutrition.  The training takes place during zero week each fall quarter, in preparation for the many education workshops and outreach events that Golden ARCHES peers will provide to UCR students throughout the year.
Golden ARCHES meets as a group every other week throughout the year, about 5 per meetings per quarter. The group uses these meetings to get to know each other, as well as to plan the quarter's events.
Peers are required to participate in at least three events per quarter, although we always love to have more participation!
Although Golden ARCHES focuses our education presentations and programming on the topics of alcohol, sexual health, and nutrition & fitness, Golden ARCHES peers are expected to help out with whatever wellness events and programming are being put on by The Well.  We work together with other peer groups frequently, to comprehensively and effectively meet the health needs of UCR's students.
For more information
Come talk to a Golden ARCHES peer at The Well (HUB 248), or email goldenarches@ucr.edu