Frequently Asked Questions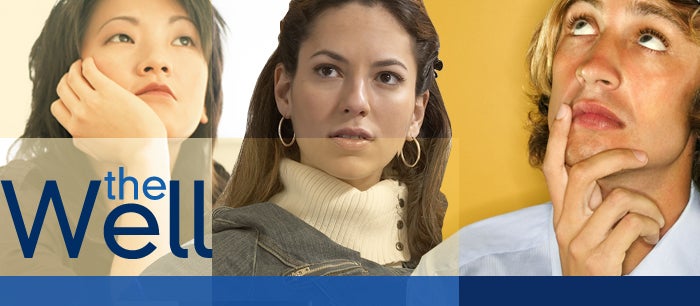 Where is The WELL?
The WELL is located in the Highlander Union Building (HUB), room 248.
---
What are the hours of operation for The WELL?
The primary office for The WELL is open Monday through Friday from 8am until 5pm. Evening and weekend programs are offered on a regular basis. For a calendar of events that details these programs, please click here.
---
What does The WELL do?
The WELL is a part of a collaborative unit, the Student Wellness partners, which offers campus-wide resources and programming designed to promote students' total health and wellbeing. The WELL is your one-stop shop for answering wellness related questions, gathering referrals, and connecting you with mentors to help you refresh and re-energize the body, mind and soul. The WELL will help you find stress relievers, begin a healthier lifestyle, and celebrate your individuality. Connect with other UCR students, departments, and resources. The WELL is here to guide you in meeting all of your wellness needs.
---
I'm in need of counseling/emotional assistance. Can The WELL help with that?
The WELL can assist you in getting connected with The Counseling Center or the Student Affairs Case Manager, who can provide this support. The Counseling Center is in the Veitch Student Center North Wing (Monday-Friday, 8am-5pm). Twenty-four hour telephone support is available through the Counseling Center by calling 951-827-TALK. The Student Affairs Case Manager works with students whose life situation, emotional health, or family stresses are negatively impacting their academic performance, or their conduct on campus. If you are having difficulties in relationships, academic, conduct, mental health, managing family demands or overall emotional health, contact the Student Affairs Case Manager at 951-827-9354.
---
Can I bring my dog to the Therapy Fluffies?
All dogs who participate in the Therapy Fluffies program are certified therapy dogs. They are required to go through specialized training with a volunteer organization with whom UCR contracts for this event.
---
Where do I get condoms?
COVID-19 Update: The Well is temporarily closed. Contact thewell@ucr.edu to find out how to get access to free condoms. Free condoms are available in The WELL, Student Health Services, Women's Resource Center, and the LGBT Resource Center. The WELL provides an abundance of programming related to sexual health, in addition to a student group (Golden ARCHES) that addresses this topic. To review a schedule of upcoming sexual health events, visit The WELL's website at well.ucr.edu, or call 951-827-9533.
---
I need to study or eat lunch. Can I go to The WELL?
The WELL is open to all students to study, eat lunch, take a nap, or simply gather and connect. Visit The WELL during regular business hours (Monday-Friday, 8am-5pm) for a laid back place to relax…and learn a little more about wellness while you're here.
---
I want to make a friend/meet new people. Can The WELL help?
There are over 300 student organizations on Campus, so you will likely be able to find a subject/group that interests you. If not, you can start your own. Contact the Student Life Office at 951-827-7344, or visit the Student Life website and get more information about how to join in. There are also many Peer Programs on campus that are available if you want to be a leader and help others, or you feel that you could benefit from some peer help. Check out the Peer Programs on The WELL's website. The UCR Student Recreation Center also has a lot of activities like Outdoor Excursions, fitness classes, and sports teams that are open to all students and a great place to meet people with similar interests.
---
I'm interested in learning how to become more active. Where do I start?
The WELL offers a pedometer program that encourages students to track their steps and earn prizes. The more you walk, the more you win. Weekly events are provided through The WELL, and can be found on the calendar of events on our website, including our weekly drop-in walking and running group called Peanut Butter & Jogging. The Student Recreation Center provides everything you need to remain active, including independent weight and cardio workouts, group exercise classes, and intramural sports. Your registration fee provides you with access to the Student Recreation Center, so take advantage of all it has to offer.
---
What health services do you provide?
For a schedule of upcoming health and wellness related events, review The WELL's calendar on our home page. The WELL also partners regularly with Student Health Services to provide outreach programs and health assessments. For individual consultations, to learn about insurance options, or to address medical concerns, visit Student Health Services at the Veitch Student Center.
---
How and when do I redeem GO! prizes?
To redeem your prizes, simply visit The WELL during regular hours of operation (Monday-Friday, 8am-5pm). Remember, the more you walk, the more you win.